Birds/Strays Need You In This Summer
"Summer is at its peak. It has already crossed 40 degrees Celsius. Many birds die in summer due to lack of water."
"For us, it is easier to get a glass of cold water to quench our thirst". Animals, and more particularly for birds, it is not that easy. Animals are forced to wander long distances only for drinking water. For residents to place a bowl of water outside their house or on their balconies is easy and it will help them.
'Place water bowls outside homes to help Birds/Strays' in Terrace, Compound wall & balconies, Infront of shops, Outdoors, Parking place, which is based on your availability and Keep things fresh…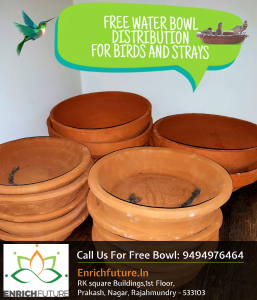 Most small birds need to drink water at least twice a day.
Here EnrichFuture is coming up with the distribution of a free bowl to these tail lovers for creating awareness in Rajahmundry.  Also, we distributed the eco-friendly pots to a few volunteers to keep watering for birds/Strays.
Do join with us and support the campaign. Spread the message to all and will make people should aware of it. Meanwhile, Place the water bowls to help
birds/strays and make sure take a picture then Tag our FB page @Enrichfuture add hashtags #PledgeABowl #SaveBirdsthissummer #EnrichFuture.
Free Bowl Distribution For Birds And Strays In This Summer At Rajahmundry.
For Free Bowl Please Contact Us: +91 9494976464
Visit: Enrich Future RK square Buildings,1st Floor, Prakash Nagar, Rajahmundry – 533103